New York Cannabis Sales Eclipse $100M as Missouri Passes $1 Billion in 2023
In a tale of two program rollouts, New York's licensed cannabis dispensaries have reported more than $100 million in adult-use sales so far in 2023, while Missouri stores have surpassed $1.1 billion in total cannabis sales this year.
Similar aged markets, New York launched its commercial adult-use retail program via one social equity licensee on Dec. 29, 2022, while Missouri launched adult-use sales via existing medical cannabis operators on Feb 3, 2023.
New York

Now with 27 licensed adult-use retailers—including 22 stores and five delivery-only operators—New York eclipsed $104 million in adult-use sales through the first 10 months of the year, according to the state's Office of Cannabis Management (OCM).
In addition, New York regulators have approved 54 cannabis grower showcases (CGS) allowing licensed growers and processors to work with retailers to set up temporary shops and showcase their products at events like farmers markets where consumers can make cannabis purchases. These events have provided $3.4 million in sales, OCM Director of Policy John Kagia said while presenting his sales report during the Cannabis Control Board's regular meeting Nov 17.
Cannabis flower made up 52% of sales at these CGS events, while edibles (20%), prerolls (11%), vapes (11%) and concentrates (5%) were the other leading product categories.
Despite few stores/events for New Yorkers 21 and older to purchase regulated cannabis products, Kagia said surpassing $100 million in sales is a "critical milestone" for the state market.
"I think it continues to reflect incredible retail velocity," he said. "And with the extraordinary effort that our retailers have put forward in getting their stores up, securing diverse products and getting customers in, we continue to see strong growth amongst the operators that we currently have open."
Although unlicensed cannabis stores have far outpaced the regulated adult-use market in New York—including outnumbering licensed dispensaries by an 800-to-1 ratio in New York City, according to an August estimate from the New York City Council—product and brand diversity will continue to drive consumers to regulated stores, Kagia said.
As of November, New York's licensed retailers on average are carrying more than 50 brands, and 72% of these dispensaries have more than 200 SKUs in their stores, according to OCM.
"We think this is one of the critical differentiators between the legal market and the unregulated market—the number of SKUs that an individual store can carry," Kagia said. "We're certainly not seeing a great deal of unlicensed shops that have this level of diversity of product. And we think this is one of the things that is having customers come back into the legal store is the breadth of choice that allows them to choose products that reflect their unique use cases."
In addition, Kagia said New York's regulated market is just experiencing the beginning of a "rich brand diversification" that's only going to accelerate with more cultivation, processor and distribution licenses being issued in the future. Currently, there are 200-plus brands in the market, he said.
RELATED: 5 Tips for Creating a Winning License Application in New York
Missouri

Meanwhile, Missouri cannabis sales have largely been rocking and rolling since the adult-use retail market commenced in early February.
The state's licensed retailers reported $833.4 million in adult-use sales and $269 million in medical cannabis sales through October, passing the $1.1 billion mark so far in 2023, according to the Missouri Department of Health and Senior Services (DHSS).
Notably, Missouri sales have experienced a three-month skid since a $123.2 million peak in July, decreasing 8% to $113.1 million in October, mostly due to a shrinking medical market. All cannabis sales since medical retail operations commenced in late 2020 total a cumulative $1.7 billion, according to DHSS.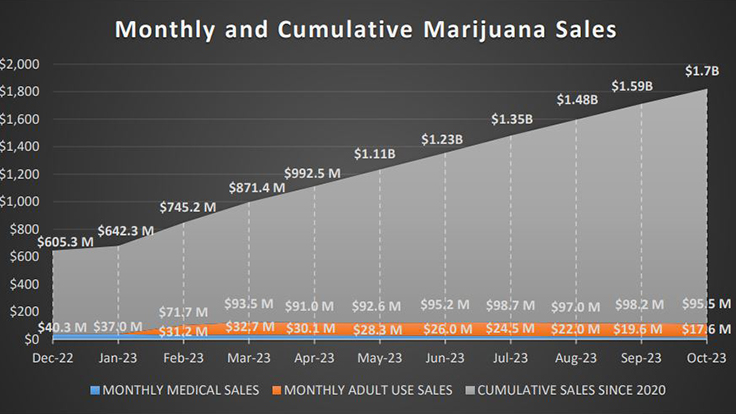 With these sales figures, Missouri is now projected to be the sixth-largest cannabis market among adult-use states in the nation in 2023, behind California, Michigan, Illinois, Massachusetts and Colorado, according to Cannabis Business Times research and analytics.
Notably, Missouri's market now includes 203 licensed and operational adult-use dispensaries as of Nov. 16, according to the DHSS.
This equates to roughly 3.3 dispensaries per 100,000 people, representing almost 30 times greater access to the regulated market than New York's roughly 0.1 dispensary per 100,000 people.
Taking population into account, Missouri is averaging $14.96 in monthly adult-use cannabis sales on a per-capita basis, while New York is averaging $0.53 in adult-use sales per capita per month in 2023—the lowest in the nation among adult-use states, according to CBT research and analytics.
Putting this into perspective, Missouri's adult-use cannabis sales in 2023 are more than eight times that of New York's despite having one-third the population.