Court Brief Slams DEA's 'Indefensible' Rationale For Firing Agent Over Positive THC Test Attributed To CBD Hemp Product
The Drug Enforcement Administration (DEA) fired a former agent based on an "unjustifiable, unlawful, and inexplicable" rationale after he tested positive for THC after using CBD products that were marketed as being derived from federally legal hemp, an attorney argued in a new brief in a federal court case challenging the removal.
Anthony Armour—described by DEA itself as an "outstanding" special agent during his 16-year tenure—was terminated in 2019 following a random drug screening that revealed traces of THC metabolites. He admitted to taking CBD for chronic pain as an opioid alternative—and he turned over the products he believed to be federally legal under the 2018 Farm Bill—but DEA upheld his firing even upon appeal.
In a brief submitted to the U.S. Court of Appeals for the Federal Circuit this week, the former DEA agent's attorney, Matt Zorn, challenged a series of arguments from the agency, asserting that it relied on "undeniably flawed evidence" to support its claim that Armour unlawfully used marijuana by consuming a CBD product he believed to be within the federal definition of legal hemp.
"This is all indefensible enough. But [DEA's response] disturbingly sheds new light on how an outstanding DEA agent landed a draconian punishment for an unintentional act," the brief says. "Deep in the Response, the government notes that DEA intended to remove Armour regardless of his intent, outstanding service, and remorse. DEA would have removed Armour from federal service even if he were just negligent in purchasing CBD products."
"DEA could have charged Armour whatever it wanted under its guidelines. Likewise, it can fashion whatever drug policy it desires," it says. "But DEA put Armour on a pedestal and charged him with use/possession of marijuana and never proved the charge. Instead, it took unjustifiable, unlawful, and inexplicable shortcuts."
"DEA cannot fire Armour for unlawful use/possession based on his apparent negligence, recklessness, or poor judgment in buying widely marketed CBDs. To remove him based on the charge it brought, DEA had to show that Armour acted with intent and provide substantial evidence that he used marijuana," the brief continues. "In both respects, DEA failed. As a result, Armour's removal must be reversed, and regardless, the penalty of removal is unjustifiable."
The brief argues that, because it's "undisputed" that Armour didn't intend to use or possess marijuana, "the maximum reasonable penalty is no penalty at all," and poor judgement or negligence doesn't justify a marijuana possession charge, contrary to DEA's position.
Armour's attorney pointed to multiple pieces of analogous caselaw that he said establishes how "unintentional use of illegal substances does not warrant removal." For example, a DEA agent who tested positive for illegal drugs after injecting steroids that were represented to him by a personal trainer as legal had his removal reversed upon appeal. In 2015, another federal officer with the Air Force who accidentally ate a THC-infused brownie had his removal cancelled upon appeal.
"The Court may straightforwardly resolve this appeal on the issue of intentionality. Still, the [appeals board's] errors do not stop there. Beyond there being no evidence of intent, there was no substantial evidence that Armour used marijuana," it says.
The test used to justify the agent's removal did not determine whether the THC in his system was from consuming federally legal hemp or illegal marijuana, the brief says. Further, it says that the appeals board "agreed" that the test used to analyze the CBD product Armour voluntarily provided was "undeniably flawed."
The Farm Bill that legalized hemp and its derivatives like CBD containing up to 0.3 percent THC by dry weight has forced many federal agencies to reconcile their workplace drug policies. That includes DEA—but the departmental guidance only came after the former agent was terminated, which is noted in a briefing his attorneys filed with the U.S. Court of Appeals for the Federal Circuit in May.
For its part, DEA said in a response briefing in September that the former agent's challenges to the termination are "without merit and improperly invite the Court to ignore well-established Federal drug policies and to reweigh the evidence in contravention of the standard of review."
Armour, who has solicited financial support from the public as he continues to struggle to find employment amid legal costs to fight the in court, has emphasized that his problem isn't with DEA as an institution.
He told Marijuana Moment in an interview last month that he recognizes there are many who use cannabis who hold deep resentment with the agency given its historic role in enforcing criminalization—and while he hopes to return to work there, he agrees that the laws around cannabis need to fundamentally change.
"I support legalization. I support common sense legislation," he said. "And, obviously, the science backing legalization is there, and it's just been ignored this entire time. Thankfully, we have people that are able to bring the issue to light and educate a lot of people."
—
Marijuana Moment is tracking more than 1,000 cannabis, psychedelics and drug policy bills in state legislatures and Congress this year. Patreon supporters pledging at least $25/month get access to our interactive maps, charts and hearing calendar so they don't miss any developments.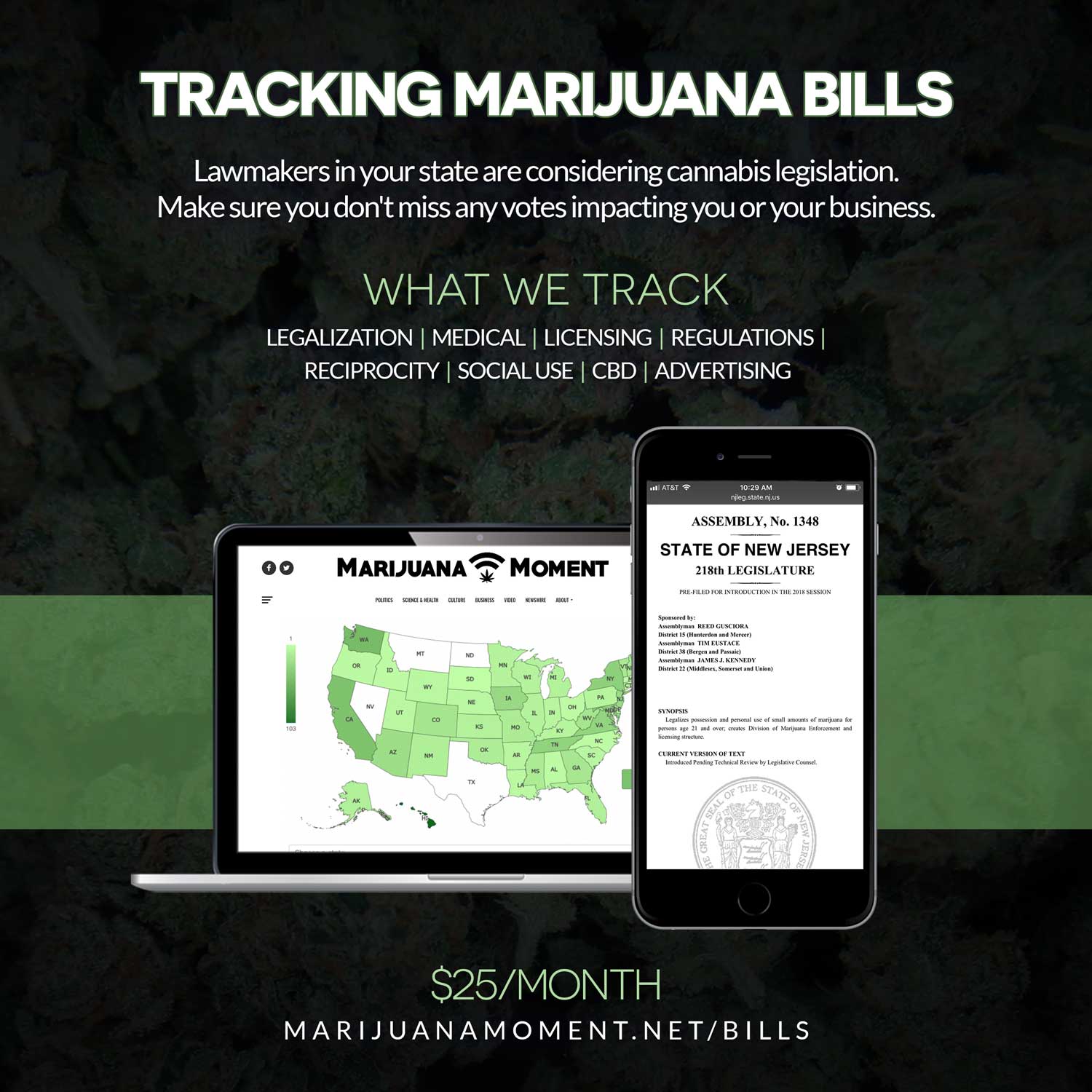 Learn more about our marijuana bill tracker and become a supporter on Patreon to get access.
—
As advocates and lawmakers work to reshape federal marijuana laws, however, federal agencies continue to communicate that their current policies still prohibit workers from engaging in state-legal cannabis activity, and that they should exercise caution with respect to legal hemp products.
For example, U.S. Department of Agriculture (USDA) food safety workers were recently told to avoid cannabis products, including federally legal CBD, as the agency observes an "uptick" in positive THC tests amid "confusion" as more states enact legalization.
The U.S. Department of Transportation (DOT) has finalized a rule to amend its drug testing policy in a way that could have significant implications for truckers, commercial drivers, pilots and other federally regulated transit workers who use marijuana off the job.
The Bureau of Alcohol, Tobacco, Firearms and Explosives (ATF) has updated its employment policy to make it so applicants who've grown, manufactured or sold marijuana in compliance with state laws while serving in a "position of public responsibility" will no longer be automatically disqualified—whereas those who did so in violation of state cannabis policies won't be considered.
The Secret Service also recently relaxed restrictions on prior marijuana use by prospective agents.
Late last year, draft documents obtained by Marijuana Moment showed that the federal Office of Personnel Management (OPM) was proposing to replace a series of job application forms for prospective workers in a way that would treat past cannabis use much more leniently than under current policy.
The Biden administration instituted a policy in 2021 authorizing waivers to be granted to certain workers who admit to prior marijuana use, but certain lawmakers have pushed for additional reform.
Meanwhile, people working in the climate sector would be protected from being fired for testing positive for marijuana if they're based in a legal state under a recently refiled bill from more than 40 congressional Democrats.
The House Rules Committee has repeatedly blocked attempts by lawmakers to end the practice of drug testing federal job applicants for marijuana as part of large-scale spending bills this session.
Over in the Senate, however, members passed defense legislation in July that contains provisions to bar intelligence agencies like the CIA and NSA from denying security clearances to applicants solely due to their past marijuana use.
The House Oversight and Accountability Committee also passed a standalone bipartisan bill in September that would prevent the denial of federal employment or security clearances based on a candidate's past marijuana use.
Read the former DEA agent's brief in the federal appeals court case below:
Photo elements courtesy of rawpixel and Philip Steffan.
Pennsylvania House Approves Senate-Passed Bill To Let Medical Marijuana Growers Sell Directly To Patients